Specifications
Remote Firing System
1. 10 channels.
2. Transmitter range: 150-200M.
3. Programable and interchangeable
Remote Firing System
Good news: Super far distance remote for this item, remote range is about 200M.
Step fire- Remote button 1-10 is to control the 10 channels one by one.
Salvo fire- When you press button 11, all the 10 channels will fire together.
Sequential fire- When you press button 12, the channles will fire sequential.
Fire capacity: each channel could fire 5pcs stage fountains in series.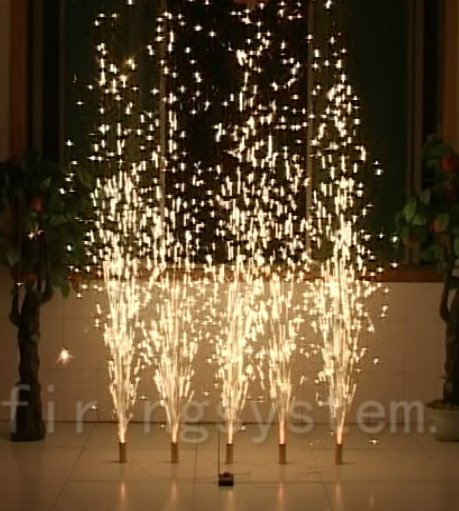 One channel could fire one pcs talon igniters.
The product is special for stage fireworks, cake fireworks and other fireworks display.
Using methord
1.Please put the batteries into receiver, then turn on the power switch and lamp lighting.
2.Please turn on power swich of transmitter. Then press the button one by one.It indicates the transmitter is in good condition if the LED on receiver is red.
3.Please connect products in red&black plug .It indicates the line is ok if LED turns green. If the LED didn't turn on, it means the products is not connecting well. Pls check it. But it will not effect the other channels.
4.Please press the transmitter button to fire the products.
Products Features
1. Transmitter- with power switch.
2. Receivers- with antenna, signal more stable.
3. Fire capacity: each channel could fire 5-6pcs display igniters and 1pcs safety igniter.
4. Programable- one transmitter could control many receivers; a button on a transmitter could control many receivers.
5. Interchangeable-If there is one receiver was broken, you could use other receivers instead only if the receivers are belongs to the same series. Or you just need to buy receivers ,don't need to buy transmitter.
Transmitter Parameters:
1. Type and Dimension- 12 button transmitter,13*5*1.8cm
2. Range-100M-150M
3. Power-10MW
4. Frequency- 433MHZ
5. Battery - 23A,12V
5.Please don't place the product in the damp, sour, alkali and pollution environment.